Post by Danny Creasy on Feb 9, 2013 22:09:48 GMT -6
Sheffield Shooting
by Danny Creasy
February 9, 2013THE RANGE
The Muscle Shoals Utility Board drug their feet on an offer to sell us the 20 acres behind ServPro on Gnat Pond Road (four months). By the time they got back to us, the owner of the ServPro land had contacted them and expressed a desire to purchase the property as well.
The MS Utilty Board informed us that they had met with their attorney and been advised to go back to a sealed bid sale. They further stated that they had received a $50,000 appraisal on the property and that no bids for less than $50,000 would be considered.
The ServPro land owner already owns the property surrounding the subject property on three sides and he has expressed an interest in developing it.
On this past Wednesday (6th), the officers and directors of NASA, Inc. voted to terminate negotiations on the Gnat Pond property and instead have James Day (board member and chairman of the site search committee) begin negotiations for 29 acres of land located in rural Colbert County just 15 miles from the Sheffield Range.
The new site is in the Crooked Oak area out Frankfort Road and Wagnon Mtn. Road. It has natural buffering provided by surrounding mountains and it is located across the road from the old Waterfall Valley Conservation Club which has held hunting and shooting range activities since 1962.
The asking price was $37,500. James negotiated a sales contract price of $36,000. The seller will provide title insurance and a deed at closing and we will pay for a survey.
In case you don't know James Day, here is a photo of him shooting in yesterday's match. If you see him, stop and thank him. He has worked tirelessly for a year on our site search.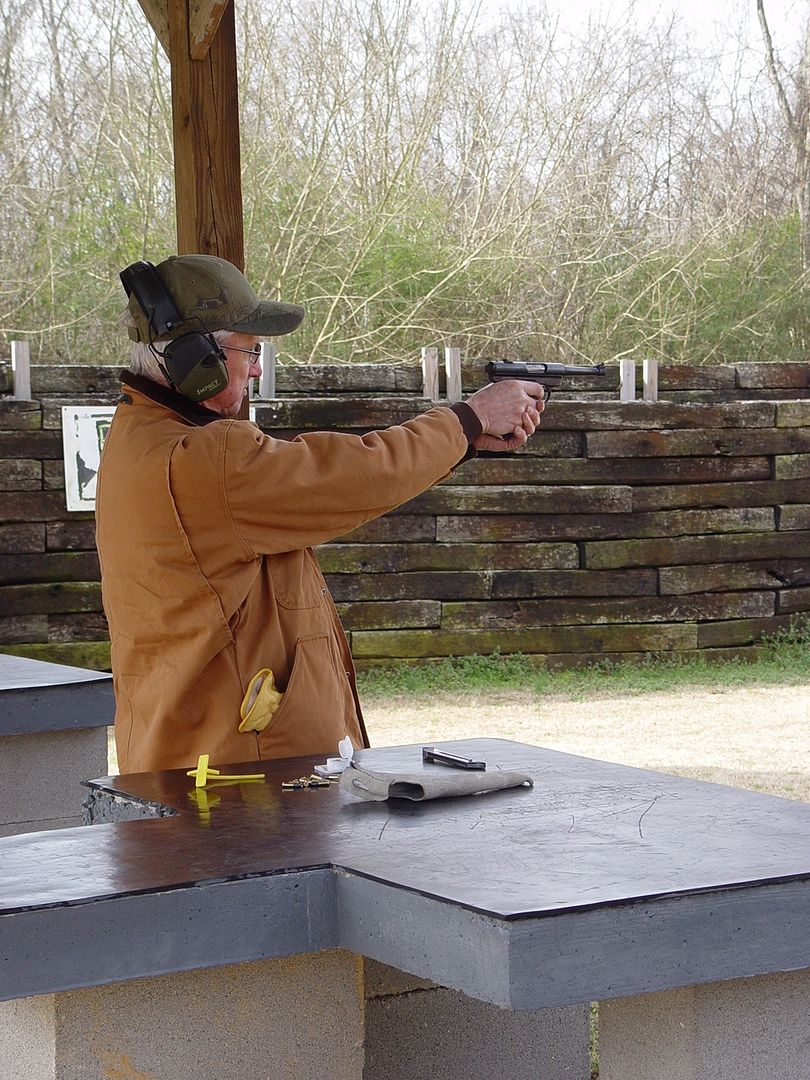 The real estate closing on the new range site should be held within two weeks.
MORE GRAEAT NEWS: The Mayor of Sheffield has tentatively granted us a two month extension in Sheffield. Although the official approval has to come from the City Council on the 18th, it looks close to certain that we can stay a little longer. Most likely, the present members will have continued access, with their existing key and card, to the Sheffield facility through April 23rd.
The new Sheffield end date is April 23, 2013.
$1,000 life memberships will continue to be sold until we hit 100. There will be no immediate limit on the $500/$100 membership option. To purchase either, please see attorney Randy Whitten, 102 East Dr. Hicks Blvd., Florence, AL 35630.
We will have a dues payment meeting in April. The members that have opted for the $200 annual dues can attend, sign up, and pay. Specific date(s) will be announced sometime in March.
Keep in mind two things; there are no plans to offer life memberships again at some future date after the 100 cap is hit and the $200 annual membership fee is subject to increase depending on increases in future operating expenses and future range development plans.
Our goal is to have a functioning range by May 1, 2013 at the new site following a final official safety inspection.
IMPORTANT
OUR PRESENT MEMBERS ARE WELCOME TO DRIVE OUT AND INSPECT THE NEW SITE,
BUUUTTTTTTT
WE DON'T OWN IT YET,
ANNNNNDDDDDDDD
EVEN AFTER WE TAKE OWNERSHIP,
ANY SHOOTING ON THE NEW PROPERTY IS STRICTLY PROHIBITED, PRIOR TO AN OFFICIAL RANGE OPENING, AND ANY MEMBER VIOLATING THIS POLICY WILL BE BANNED FROM THE CLUB FOREVER!
It is going to be an outstanding shooting facility, but it will take a lot of patience, hard work, and money to build it.
We appreciate the gracious extension from Mayor Ian Sanford and the Sheffield City Council. In turn, we have agreed to leave the steel gate so that the city can properly secure our abandoned range.
All discussions of
moving this
and
selling off that
are on hold. We have time - we have a sales contract in hand - we have good members. Stay tuned for further announcements.
MATCHES
The regular NASA Club matches will continue at Sheffield through April.
Attn: Jody and Rory, please communicate Cowboy and IDPA schedules to Danny Creasy as soon as possible for addition to the club calendar (located on this club board, as a selection, at the top of the home page).
Here are some of us standing on the new ground: