Post by Danny Creasy on Jul 21, 2014 14:08:48 GMT -6
Back when my kids were still at home, every Christmas morning would reveal the unwrapped gifts that Santa left sometime in the wee hours. He seemed to be always leaving me a package of cleaning patches, a bottle of Hoppe's #9, and a brick of Remington Thunderbolt. Not wanting to hurt the big guy's feelings, I would always make over the treasure and then quietly, after the family was off getting dressed for Christmas dinner, slip off to the ammo closet and shift the bricks of SK Std Plus, CCI Blazer, Eley Sport, etc. and then park the TBolts in the back with their lonely brethren from Christmases past. "Heck," I would say to myself, "If we ever do get in a survival situation, this stuff will at least serve for barter."
With the recent ammo crisis, I was tempted to sell the stuff and make some kind of big bucks on it. But, I thought the more prudent decision would be to keep it. It may be all I will have left someday.
I'm retired now, and with the time on my hands, I love coming up with different little firearms projects. The range is usually empty during the week, and I can take on what ever kind of goofy experiment I choose, with little risk of interference.
Over the weekend, I had read yet another scathing post about Thunderbolt. The writer claimed it leaded his bore with three rounds. Whhaaat? Now, the YouTube thing with the 250 rounds of Thunderbolt poured down the hapless bore of a Ruger Mk II over the span of a half hour or some such, that, I can comprehend. But, why you want to do that, I can't imagine. As with all things gun related, I thought the truth had to be somewhere in the middle.
So, I decided to take one for the team and put a few rounds from my hoard of elf produced ammo down the barrel of one of my cherished rimfires. Cherished? Let's rethink that. The image from that YouTube video with the poor Ruger's barrel reduced to "sewer pipe" status was daunting. Oh yeah man, let's give the Remmy econo ammo its best shot and fire it in my Anschutz 1710 or one of my CZs. "Nope, just ain't gonna happen."
I scratched my head over which of my low end .22s might be a worthy sacrificial lamb. "The Marlin 60? - The Marlin 81T? - Oh, wait....... I got it." Almost as starved for attention as my supply of Thunderbolt cartridges, was the first bolt action rimfire repeater I ever purchased. It is a Chinese clone of a #1 BRNO sporter - the Norinco JW-15, complete with a serviceable old Browning fixed four power scope (made by Burris, actually) mounted in a pair of equally old Weaver steel tip-off rings. I would not mind one bit having to get after that utilitarian bore with a bronze brush on my .20 caliber Dewey coated cleaning rod.
My plan was to fire fifteen groups of five shots each at 25 yards (the stuff is supposed to be so inaccurate - I wanted to make sure it stayed on the paper). Then, plink away at a goodly pace from offhand another 20 rounds. And finally, fire a final five shot group. I was looking for a sewer pipe bore and keyholing projectiles.
The ammo - $10.99 a brick - Whoops, Santa left the price tag on it - That must have been around the turn of the century. :-) One of my bricks is marked $7.99: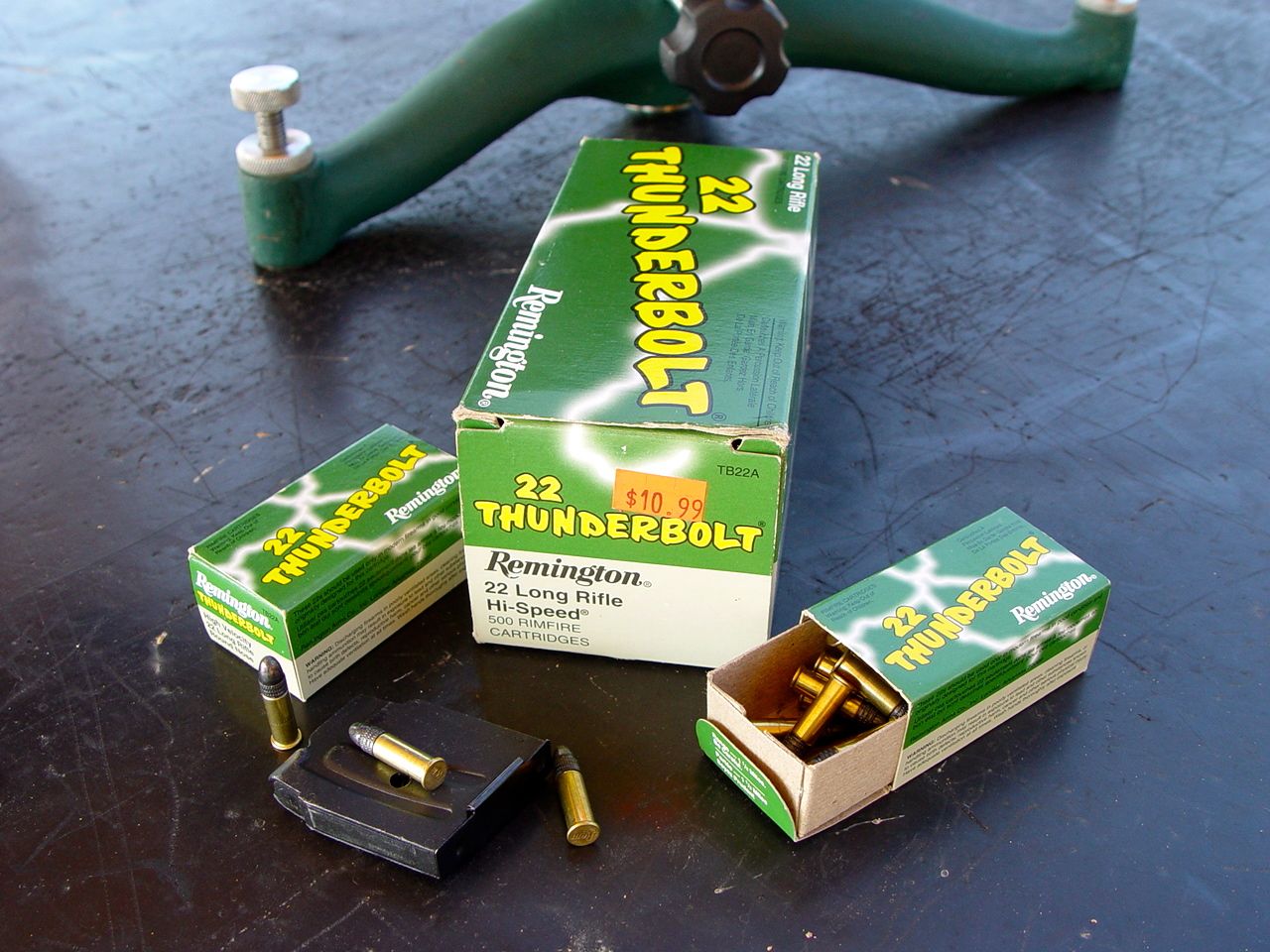 The rifle rests on some Caldwell stuff:
The targets - Accurate? Well, not by anyone I shoot with's expectations, but it would stay on a soda can at 50 yards. There are two or three of the totally crazy flyers. But, none of the aforementioned keyholes, and the 16th group (post the 20 rapidfire rounds) is about the same as the first 15. By the way, I never touched the scope's adjustment turrets - I didn't need to zero the ammo for this rifle: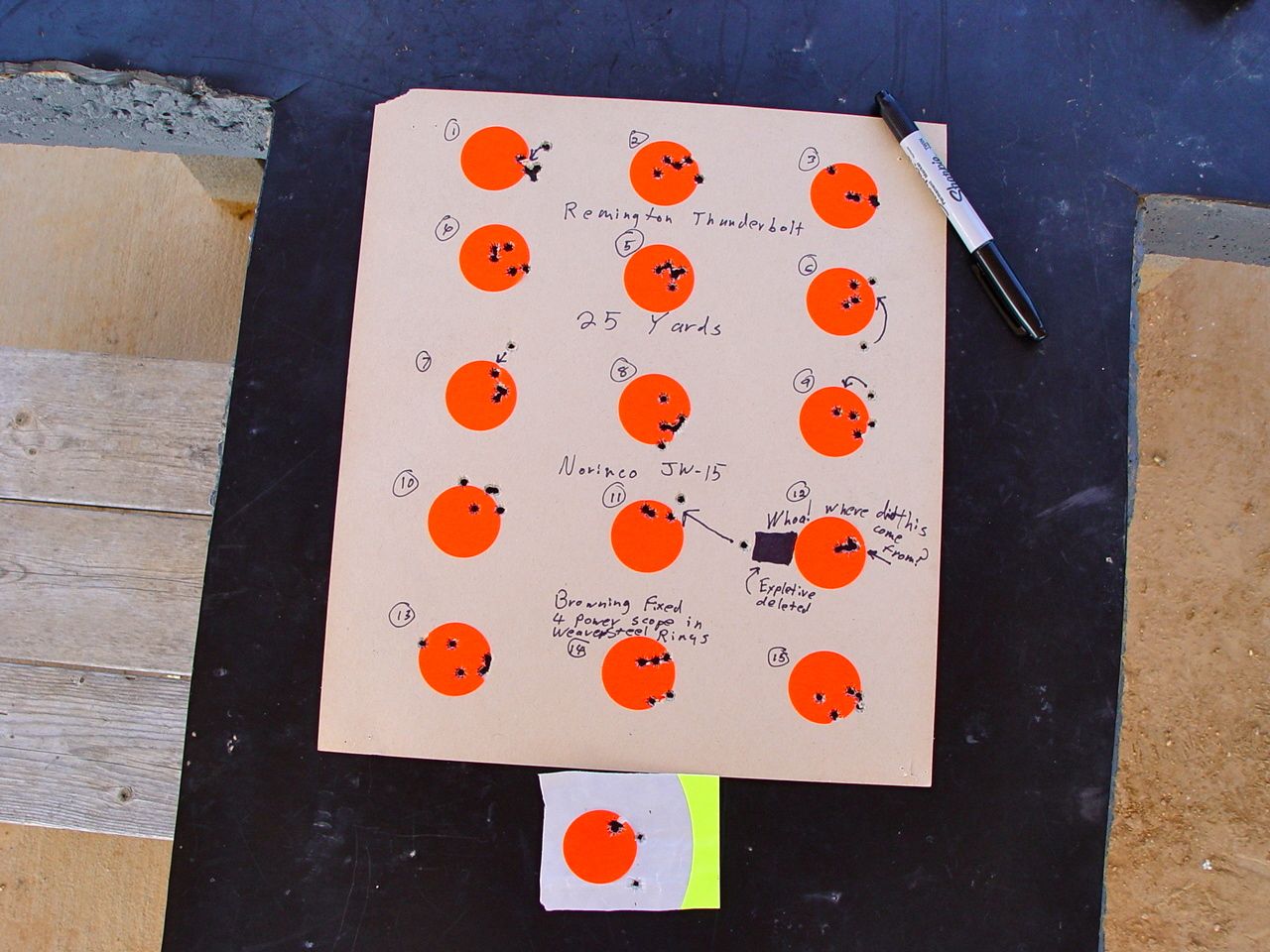 The Remington Thunderbolt brass was a little smokey, but no blown cases, no split cases, no mis-feeds, or no misfires. That's right - "Remington" and "no misfires" in the same sentence:
"Oh no, what dirty ammo!" "It got my boltface all blackened!"
Keep in mind, I started with a nice clean and shiny bore in the Norinco. I wanted the only fouling to be the Thunderbolts' fouling. After I returned home, I pushed a Hoppe's (thanks Santa) soaked patch down the bore and here is the result of this first pass. "Maybe, dirtier than some." But, no nasty slivers of shiny silver lead.
I next made several passes with a bronze brush, and followed that with another wet patch. Do you see any lead shavings or even lead dust on the newspaper?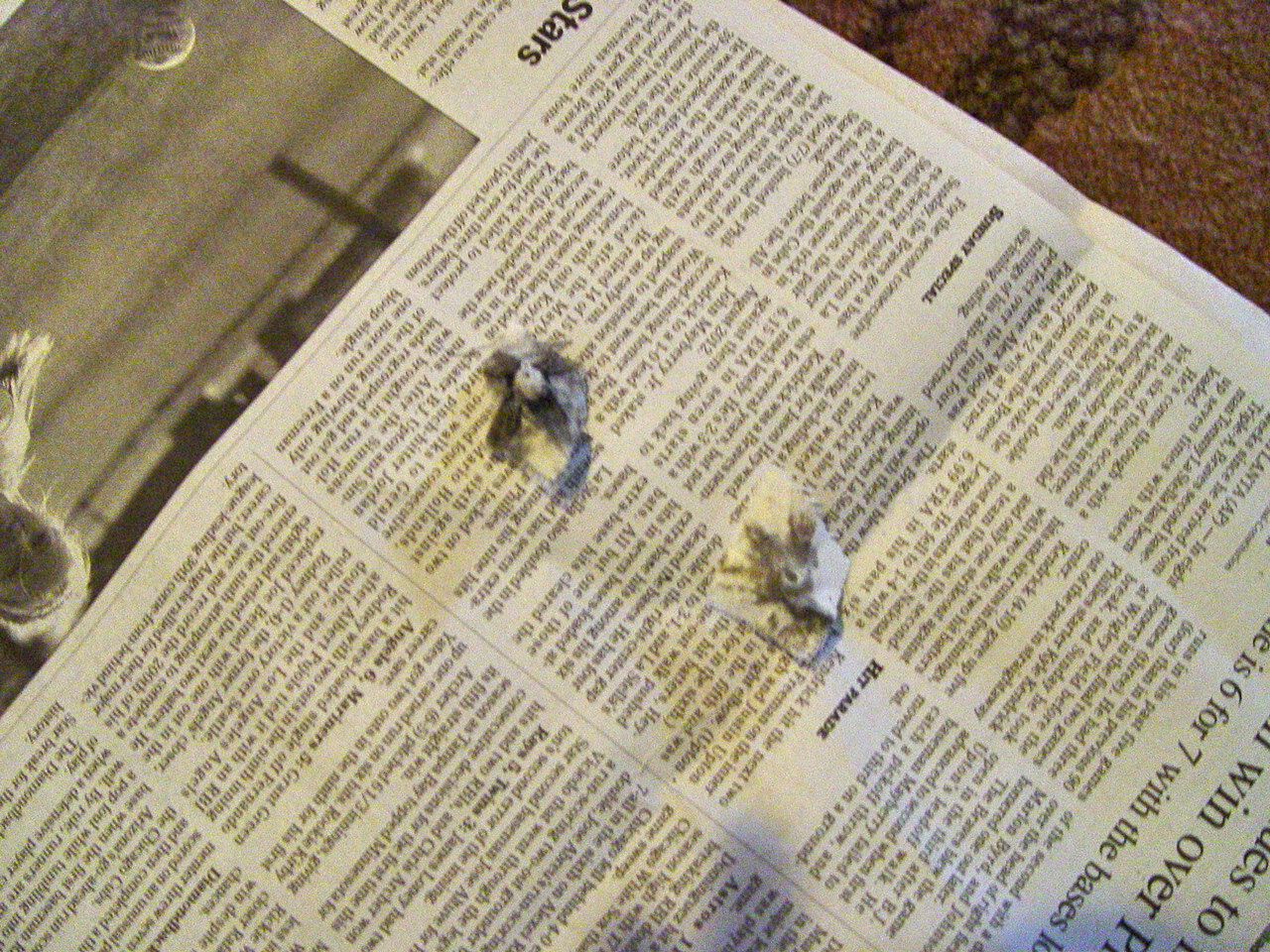 I next went to a JB coated patch and took it back and forth ten times. I followed up alternating wet Hoppe's patches and dry patches until they came out fairly clean. Still, no lead.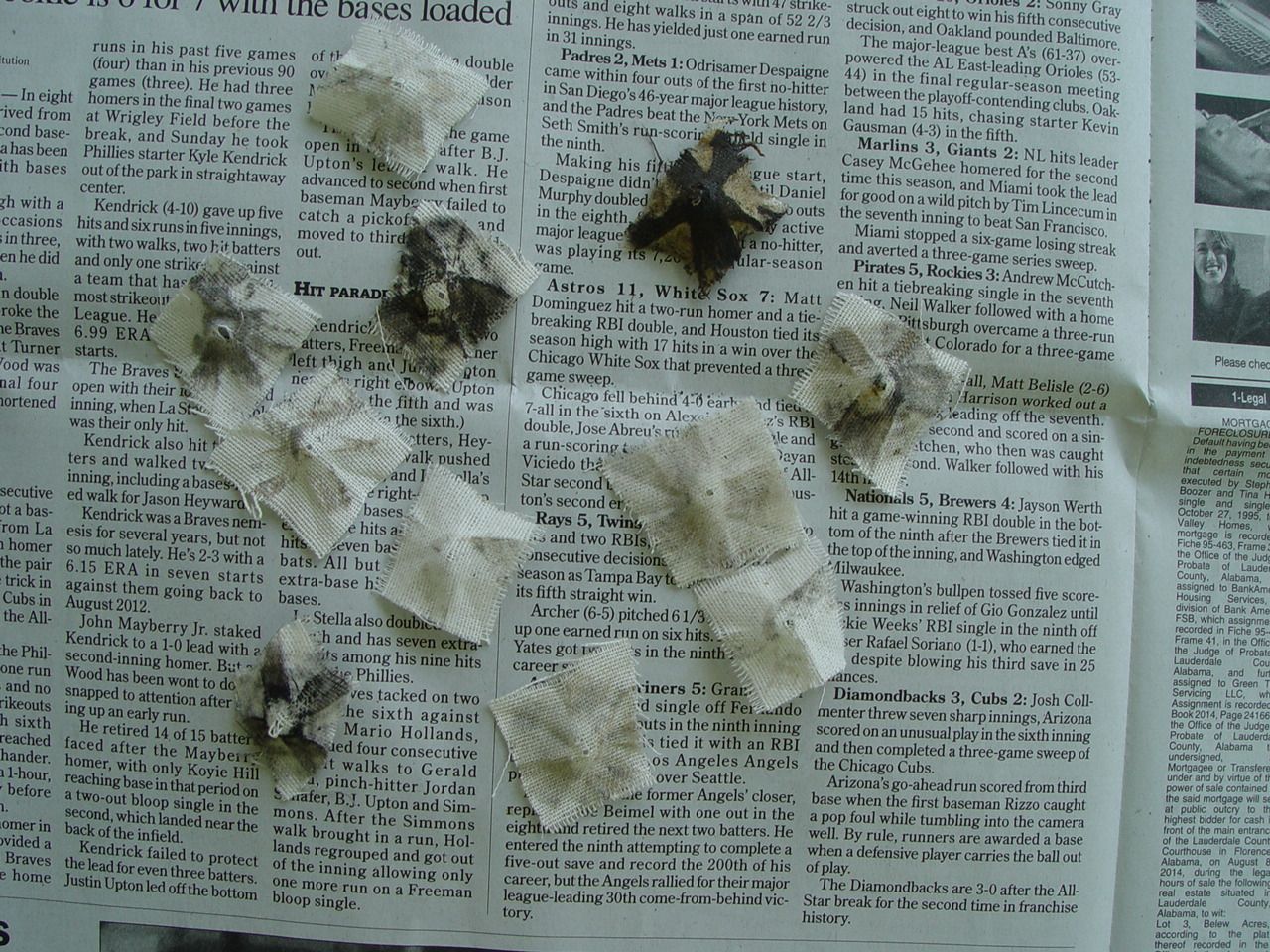 "Oh, what about that bolt?" Half a dozen licks from a GI surplus gun cleaning brush and .....
Me and my Norinco survived. I plan to try the Thunderbolt in my CZ 513 Basic on Wednesday. Let's see what they'll do at 50 yards.