Post by Danny Creasy on Sept 29, 2014 13:56:56 GMT -6
I only had one aperture sighted .22 rimfire in my battery - a Marlin 39A with a Williams on it. We have a Peep Sighted Class for our local 50/25 Silhouette Match, and I have occasionally been shooting that class with the Marlin lever gun. I am regularly shooting a 452 American in the Scoped Class and a 452 Trainer, FS, or UL in the Open Sighted Class. To enable me to shoot a bolt gun in the Peep Sighted Class, I ordered the CZ200 Tech Sight last week. It arrived in the U.S. Mail on Saturday and I scratched my head for a couple of hours that night trying to decide which CZ 452 to mount it on. Finally, around 10:00 PM, I decided to mount it on the FS.
I took the FS, an Alpen spotting scope, and the Caldwell RockBR to Crooked Oak this morning to test drive the new sights. I have won the various 50/25 classes many times with none other than the lowly Aguila Standard Velocity ammunition, so I chose to zero the rifle at 50 yards with the yellow and blue boxed ammo.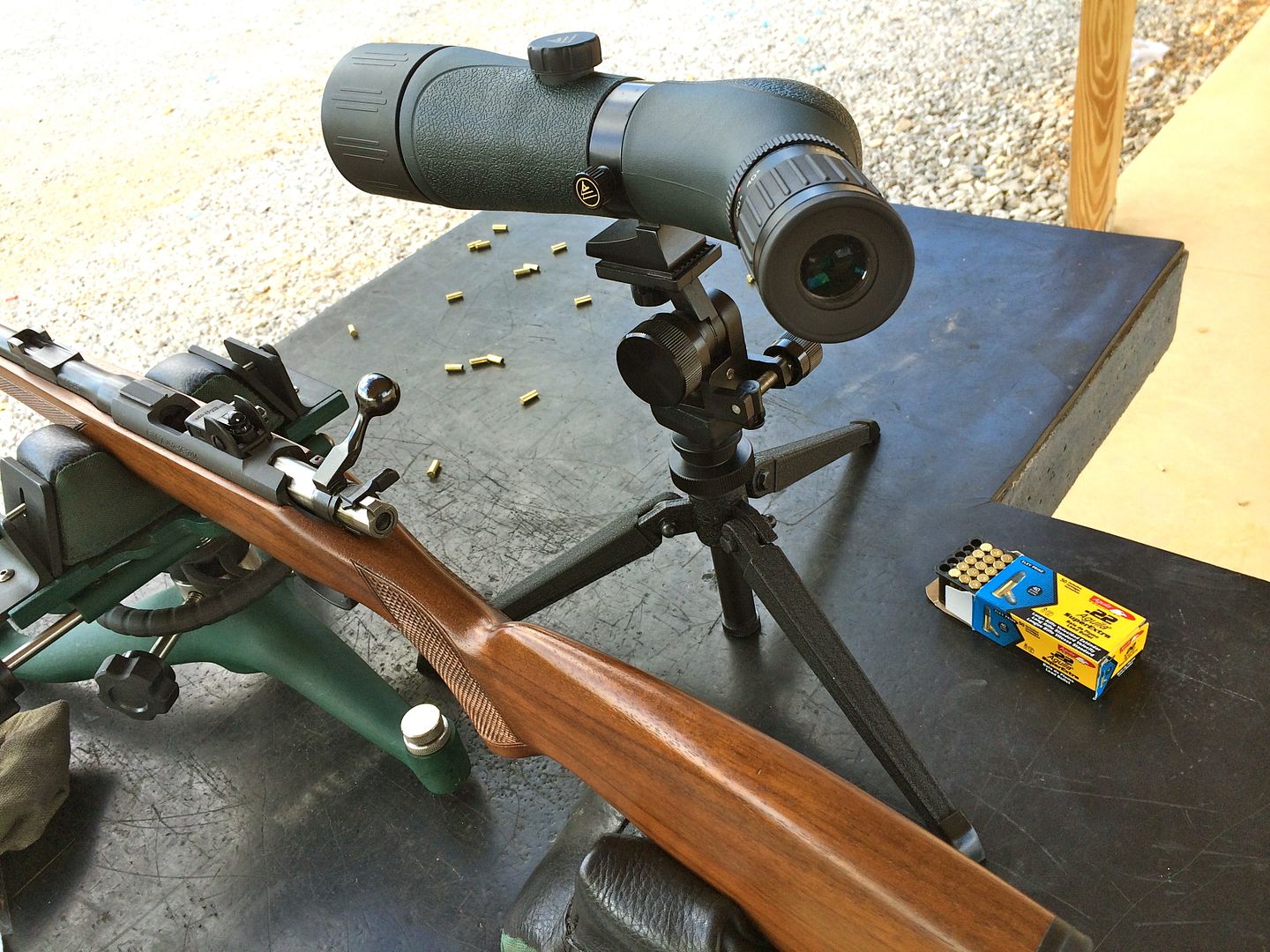 The first shots were about 4 inches high and a little to the right. I made some gross adjustments on the rear sight and fired this half inchish five shot group. I was feeling pretty good about the purchase.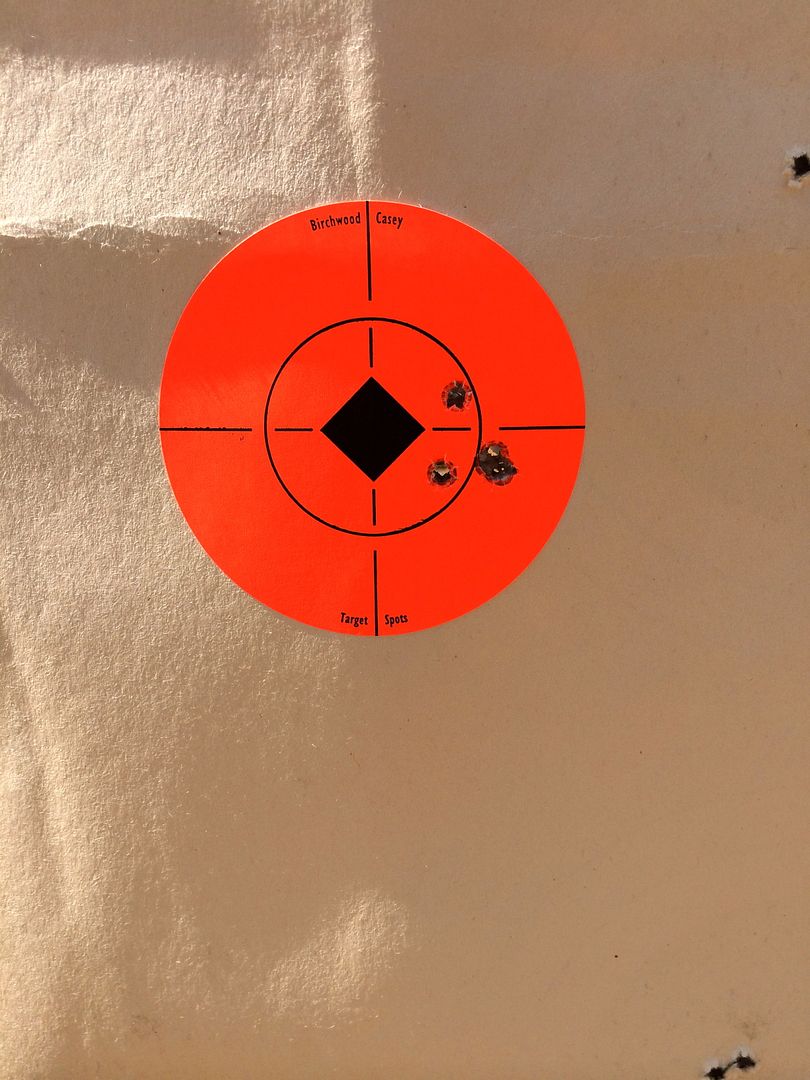 I went to work on a final zero with the goal of being able to take a six o'clock hold on an NRA 1/5th scale chicken. I had run out of the 3" flame bulls, so I stuck this 1.35" Shoot N See paster up on the backer. I took a six o'clock hold on the little black dot and centered it in the middle of the front sight - it may have occupied a third of the front sight's top. I fired, scoped, fired, scoped, etc.. The results: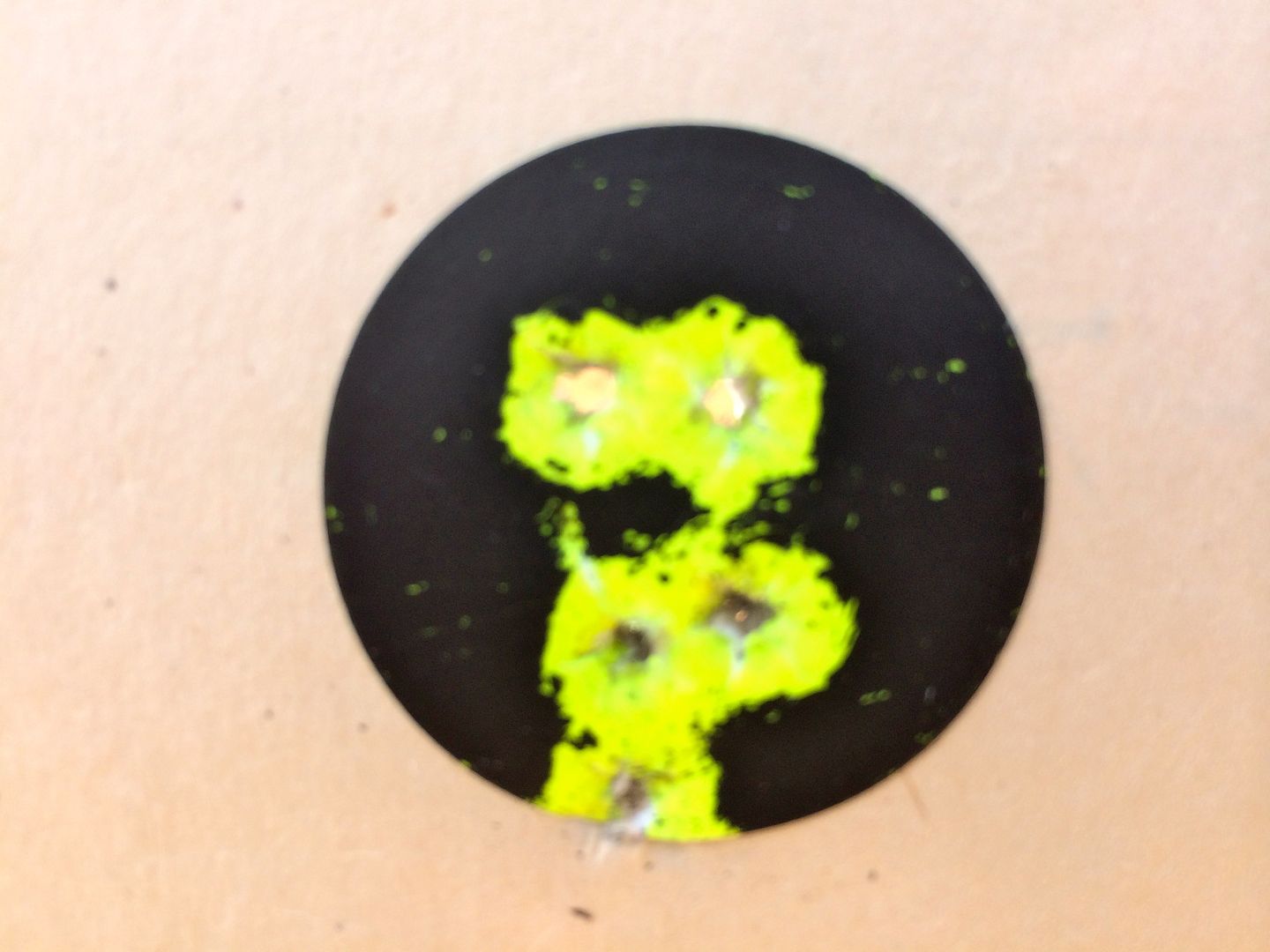 I really didn't expect to get five hits on the tiny circle with the relatively coarse peep sights. Neat!! As a matter of fact, I wasn't even sure if I would be able to see the black dot at 50 yards until I returned to the bench.
I finished up the range session with some offhand practice on a 1/5th scale turkey spinner at 50 yards. As usual, offhand is quite a different proposition than the bench, but we managed to get hits half the time and I was able to call hits and misses. My eyes were getting tired, so I decided to "live to fight another day." I will shoot strictly offhanded at a practice session on Wednesday and possibly be ready for the actual match this Saturday.