Post by Danny Creasy on Oct 30, 2011 1:40:19 GMT -6
Dwight Pilkilton shot exceptionally well all day on Saturday, October 29th to accumulate the most Sporter Master points and in turn, win the match and a new CZ 452 Varmint. Congratulations Dwight!
Match Report
The first of us hit the range about 6:30 on Saturday morning. The fog actually rolled in a little after I took this photo of first time Sporter Master shooters, David and Thomas:
Only three of us from last year ventured forth yesterday; Ricky King, Dave Hollimon, and myself (Danny Creasy). But, the competitor number was up from 7 to 9 this year (Rick didn't make this photo):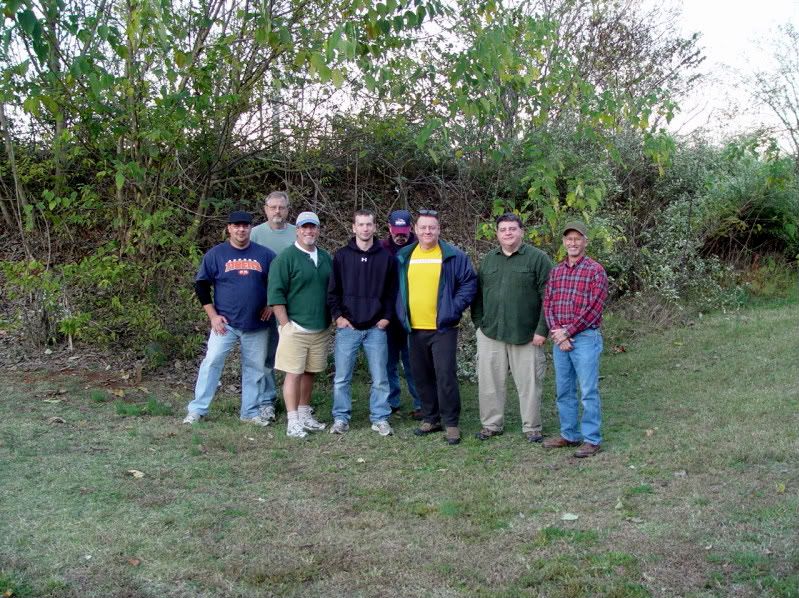 I wish I had taken the individual pics in the fog like last year. That defused light made for much better pics. But, here they are:
Dave Hollimon shot a CZ 452 American with a Weaver 40 44 6.5-20 scope and he used Wolf ME.
I campaigned with this CZ 452 American from July trying to prep for the 29th. It has a Weaver Grand Slam 6-20X40 and I fed it SK Std Plus.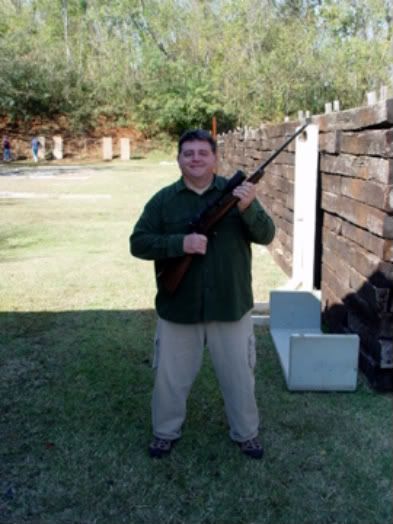 David Malone shot his new Izmash Biathlon Basic with a Barska Varmint 6-24 scope and he brought Wolf MT ammo.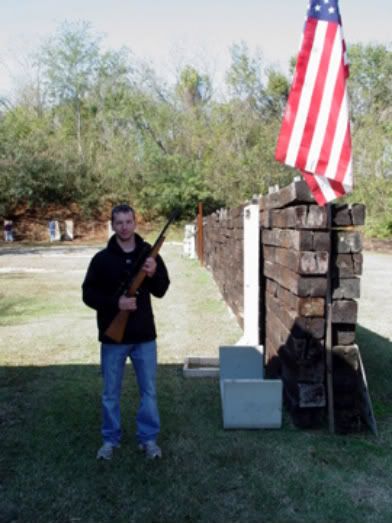 James Day has been one of the best shots in the club for years and he chose his CZ 452 Varmint (barrel trimmed to 16.5 inches and re-crowned by his son). He used a CenterPoint 4-16 scope and CCI Select cartridges.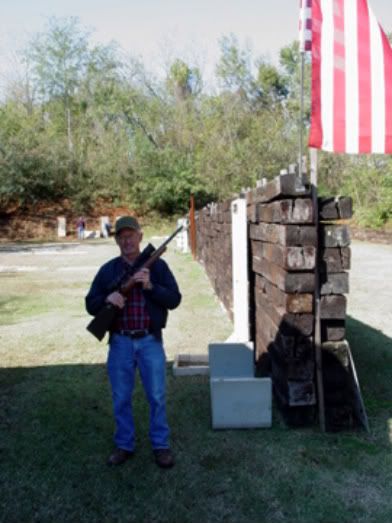 Ricky King shot his favorite Savage Mk II with its Shooters Edge 6-18X40 scope and fired Wolf MT ammunition.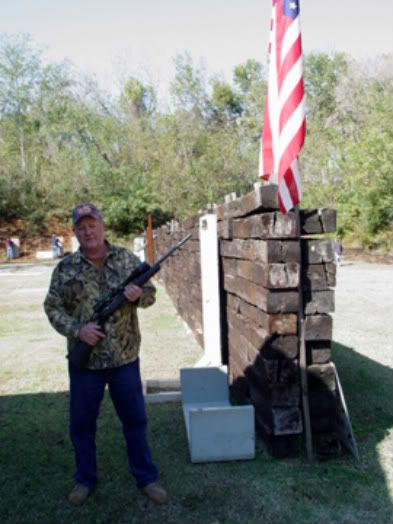 The hard practicing and always in good humor Thomas A. Reed finally decided on his CZ 455 American for the big event. He fired Wolf MT ammo while peering through a BSA 6-24X44 scope.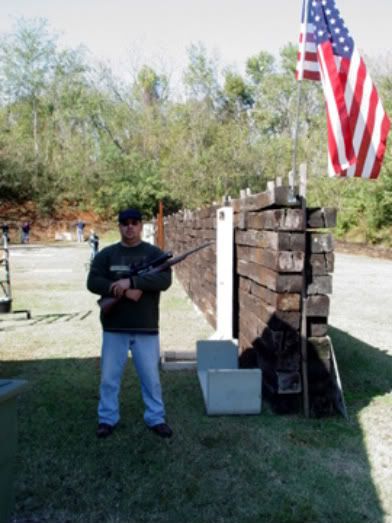 Dwight Pilkilton analytically sorted out his rimfire sporters over the past few weeks and and after a bit of back and forth selected his CZ 452 American. He picked a solid glass to mount on it in a Nikon Monarch 6.5-20 and he used Eley Tennex ammo that was fittingly purchased from the late David King's widow. Dwight is the best all around shot I have ever witnessed firsthand and it showed on Saturday.
A relatively new rimfire competitor to our club, Bill Parkhurst, stepped up to the Sporter Master plate. He fired Winchester Supreme S22 LR Match in his CZ 455 American and he used a Nikon 6-18X44 scope for sighting.
No individual pic of Mike but he fired a Savage Mk II with a fixed Bushnell scope and loaded up with Winchester 555 bulk for the all day event.
All the rifles weighed in below the 8.5 lb ceiling.
We started the bench rest event (50 yards using the USBR green monster target) at about 8:00 AM and the fog lingered through it along with condensation dripping on us from the metal roof due to melting frost on top. The BR scores were off of last year's mark for whatever reason but the bi-pod shooting Ricky King showed lead the field once again:
Ricky, 219-0X
Dwight, 211-0X
James, 208-1X
David, 203-0X
Danny, 194-1X
Thomas, 194-0X
Dave, 190-0X
Bill, 184-1X
Mike, 157-0X
Here is Ricky's fine target:
I don't think anyone was satisfied with their benchrest shooting and here is the first string walking off the line shaking their heads:
The 50/25 silhouette match got cranked up next and that freed up the rimfire benchrest range for the local USBR club that were shooting their Alabama State and Club Championships simultaneously with our match (this made for a fun crowd at the range). I want to thank Tony Gilmore for volunteering his BR scoring team to mark and tally our USBR targets. Ulus, Peary, and Reed did a great job - thank you so much gentlemen.
In the 50/25, a shooter comes to the line with 30 rounds and has 10 minutes to engage 25 metallic silhouettes offhanded. One's score is the total number of targets left standing and the number left standing in the top row (the smallest targets) is recorded to help with tie breaking.
Dwight is well, Dwight and he showed us how it was done with steely nerves honed over years of shooting and martial arts competition:
Dwight, 1X1
James, 4X3
Danny, 5X4
Thomas, 7X4 (you are coming along Thomas - awesome)
Ricky, 7X6
Dave, 8X6
David, 12X6
Mike, 14X7
Bill, 16X6
An over the shoulder pic of a 50/25 shooter:
By the way, the rack on the right is holding Dwight's only remaining little chicken on the top row - he actually spun it but they don't always fall.
Here is Dwight's awesome 50/25 score sheet:
I prefer shooting a bolt gun in our monthly Rapidfire Rimfire matches while most of the RFRF regulars prefer automatics. I was confident for the first time during the match and cruised into first place. Interesting observation, there were only three clean runs in the entire RFRF match (two for James and one for me):
Danny, 38.81 seconds
Dwight, 43.28
James, 45.18
Ricky, 48.23
Thomas, 48.47
Dave, 56.43
Bill, 76.15
Mike, 83.84
David, 90.00
In this event, the shooter fires at four strings of six metallic silhouettes against the clock from 25 yards. The lower one's aggregate time the better. There is a 3 second subtraction reward for knocking over all six critters in a row with no misses.
I feared David was going to wrap his BB around a tree as he was plagued with malfunctions during RFRF. You can survive these in the more deliberate shooting games but not in RFRF or The Raptor. He must have worked things out as he cleaned the pipes later in the Raptor Match. Dwight shot a BB extensively for several years in all of our matches and he advised David to cycle the action with force - "slap it around".
Here is my Rapidfire Rimfire score sheet: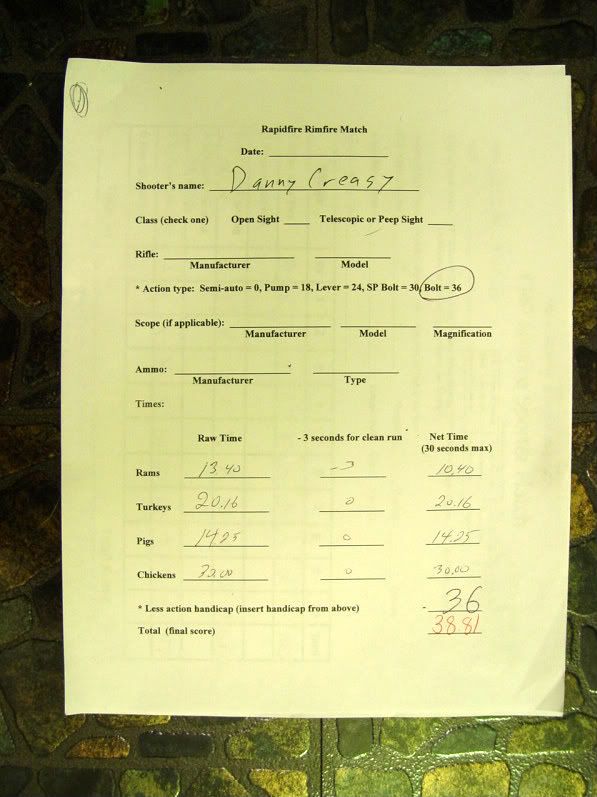 We took an hour and a half for lunch and then resumed shooting at 1:15 PM. Here were the scores at halftime: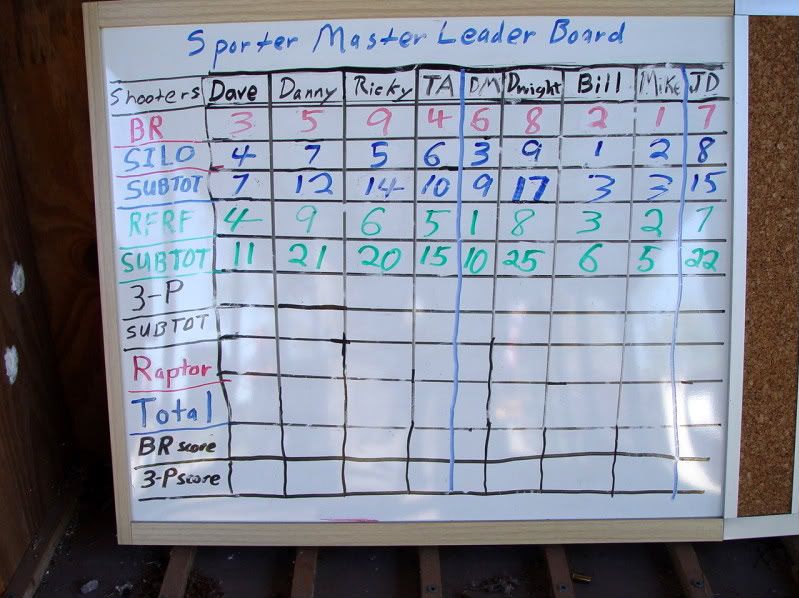 Dwight already had a solid lead.
Bill and Joe are taking it easy during the lunch break:
A special thanks to Joe Caldwell (on the right) for helping us with the match all day:
Time for the CMP Sporter event (slow fire only - prone and sitting from 50, and offhand from 25). If Dwight had blinked, Dave or I could have edged him out. But, he didn't.
Dwight, Prone = 100-10X, Sitting = 100-6X, Offhand = 97-4X, Total = 297-20X (that is a bad offhand score for Dwight but his first 100-10X ever)
Danny, 100-5X, 97-4X, 99-4X, 296-13X (how about a .30 caliber scoring plug

)
Dave, 100-5X, 98-4X, 98-3X, 296-12X (does this look familiar Dave?)
James, 99-5X, 97-3X, 99-7X, 295-15X (best offhand score of the event)
Ricky, 100-8X, 96-4X, 98-5X, 294-17X (did that doubled up matt help out in sitting Rick? ;D )
Thomas, 97-1X, 97-4X, 93-1X, 287-6X
David, 98-2X, 90-0X, 97-4X, 285-6X
Mike, 99-5X, 95-5X, 88-2X, 282-12X
Bill, 81-1X, 72-0X, 87-0X, 240-1X
Here is Dwight's 3 position score sheet. Please note that what we thought was a prone score of 100-8X, plugged up to 100-10X. That is Dwight's first ever 100-10X. I'm sure he would like one of those at Camp Perry next summer.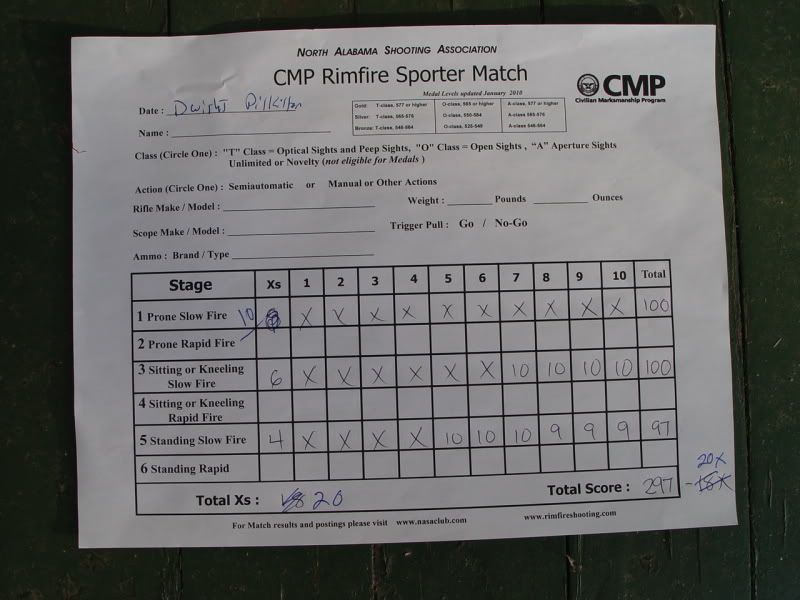 This is the first time that Mike has ever shot 3-P and the first time he ever used a sling - unreal, I think:
Folks, it was after 4:00 PM when we got over to the highpower range for The Raptor event. On our range, the late afternoon sun begins to quarter in from the front. The experienced Sheffield shooters were anxiously eyeballing the sun as we set up and got into the sighting sessions for this long range event. A shooter starts standing with rifle and bi-pod or rest in hand and at the start signal, goes prone and has one minute to engage five small metallic chickens with 10 rounds from 81 yards. Each competitor shoots three strings and one's score is the number of steel birds left standing out of the 15 targets.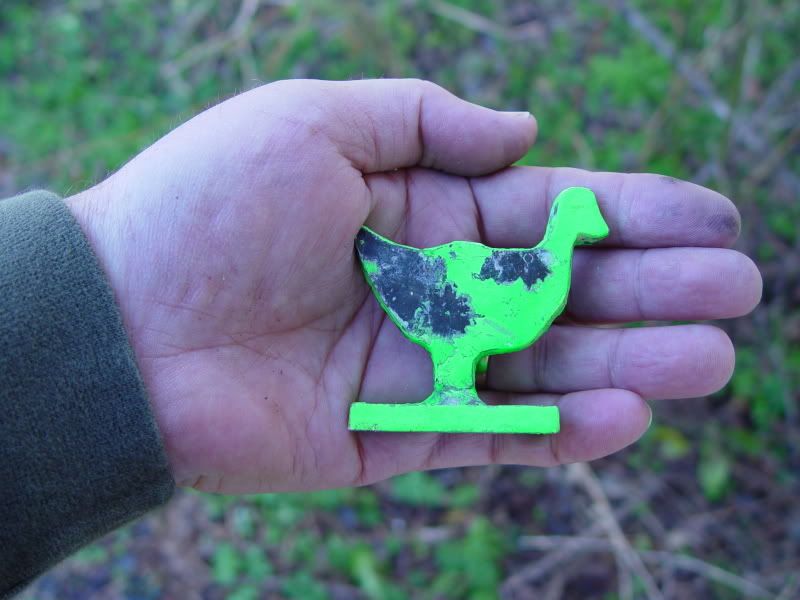 Six shooters posted scores of zero to tie for first place. As per the Sporter Master rules, 9, 8, 7, 6, 5, and 4 were added together for a total of 39 and divided by 6 and the 6.5 quotient was assigned to each of the six tied shooters.
Thomas, 0
Ricky, 0
Danny, 0
David, 0
James, 0
Dwight, 0
Dave, 3
Bill, 9
Mike, 10
Dave adjusts during sighters (a special thanks to Dave for ramrodding the Raptor set up as we finished 3-P - he is a rock):
Rick takes aim at a "pokito pollo" almost a football field away: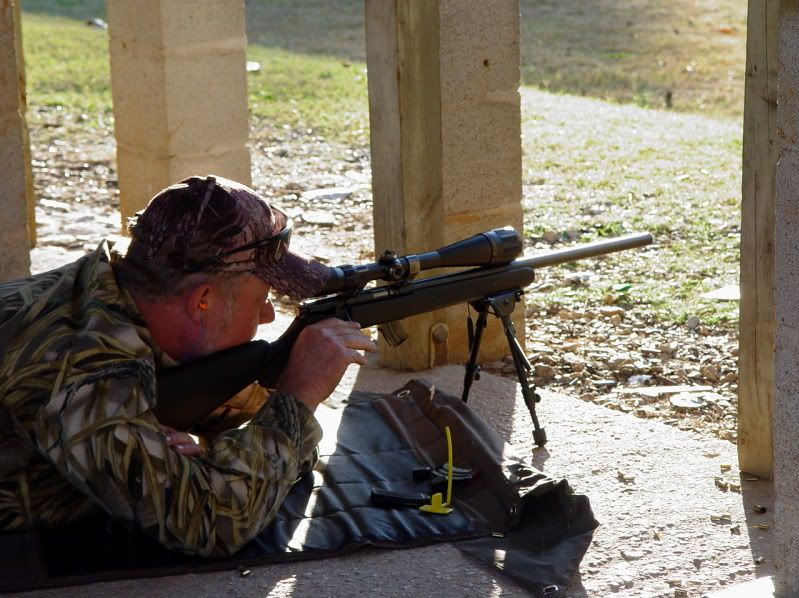 Dwight clears the pipe stands during his "worst event" ;D :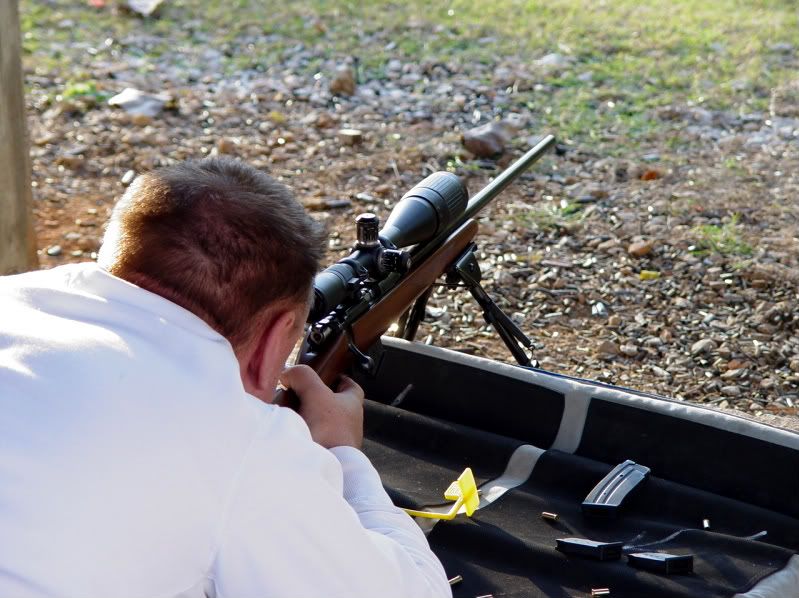 We finished up at 5:45 PM. The crew put away the Raptor equipment as Bill and I tallied the scores and updated the leader board.
We all shook PDwight's hand and as the last couple of pictures were made, the sun disappeared below the horizon: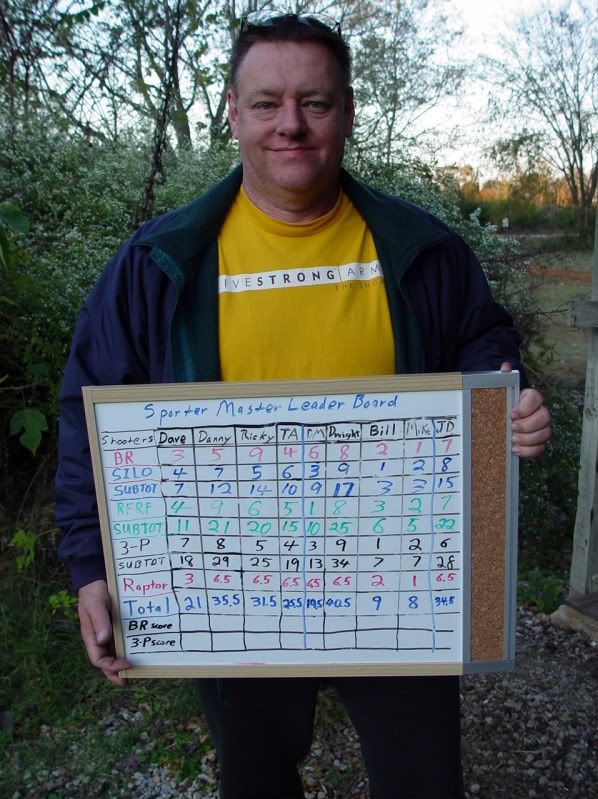 I wish Dwight could have posed with his new CZ Varmint but he will have to wait until the gunshop opens on Tuesday and go through the transfer paper work.
I was "hurtin tired" and I even think the younger men were beat. What a day! Dwight and I can almost read each others mind sometimes. Since we have each won a rifle in the first two of these annual matches, we agreed to run next year's match but not compete in it. Will the number of competitors be even higher next year? Several of us exchanged ideas about how to run a bigger crowd through all five events in the same amount of time (a single day).
PS I will keep all of the score sheets and paper targets for a few weeks just in case anyone wants his or just wants to triple check any results.