Post by Danny Creasy on Feb 15, 2008 5:47:10 GMT -6
Just in case you are thinking of shooting in one of our North Alabama Shooting Association .22 matches, let me give you the run down. I have seen folks rush out and buy a rifle and then find out that it is not suited for or even eligible for the very match that they find they like the most.
I will list the title of the match, the date it is shot on, the course of fire, and the match's rules pertaining to the appropriate firearm type and equipment.
50/25 Sporter
First Saturday - Set ups start at 8:30 AM
From 50 yards the shooter engages 25 metallic silhouettes with 30 rounds of .22 short, long, or long rifle ammo in 10 minutes. The winner leaves the fewest metallic animals standing. Fired offhand and unsupported with the use of a sling prohibited. Classes - aperture sight, optic sight, and open sight.
These matches have gotten quite popular and we average between 10 and 20 shooters. The match has been featured in the Times Daily sports section. We have added extra racks as of late to enable us to move more shooters through at a faster rate.
The rifle must be a .22 "sporter" with the match coordinator holding the right to reject questionable rifles. No palm rests or thumb-hole stocks are allowed. We have scales on hand and the rifle's weight with its scope and/or peep or open sights must not exceed 8.5 lbs. Triggers must simply be "safe". The rifle's detachable box magazine must be removed before weigh in. Tube repeaters are cleared and then weighed. A shooter can bring three rifles and shoot in all three classes if he or she so desires.
NO SCOPE MAGNIFICATION LIMITS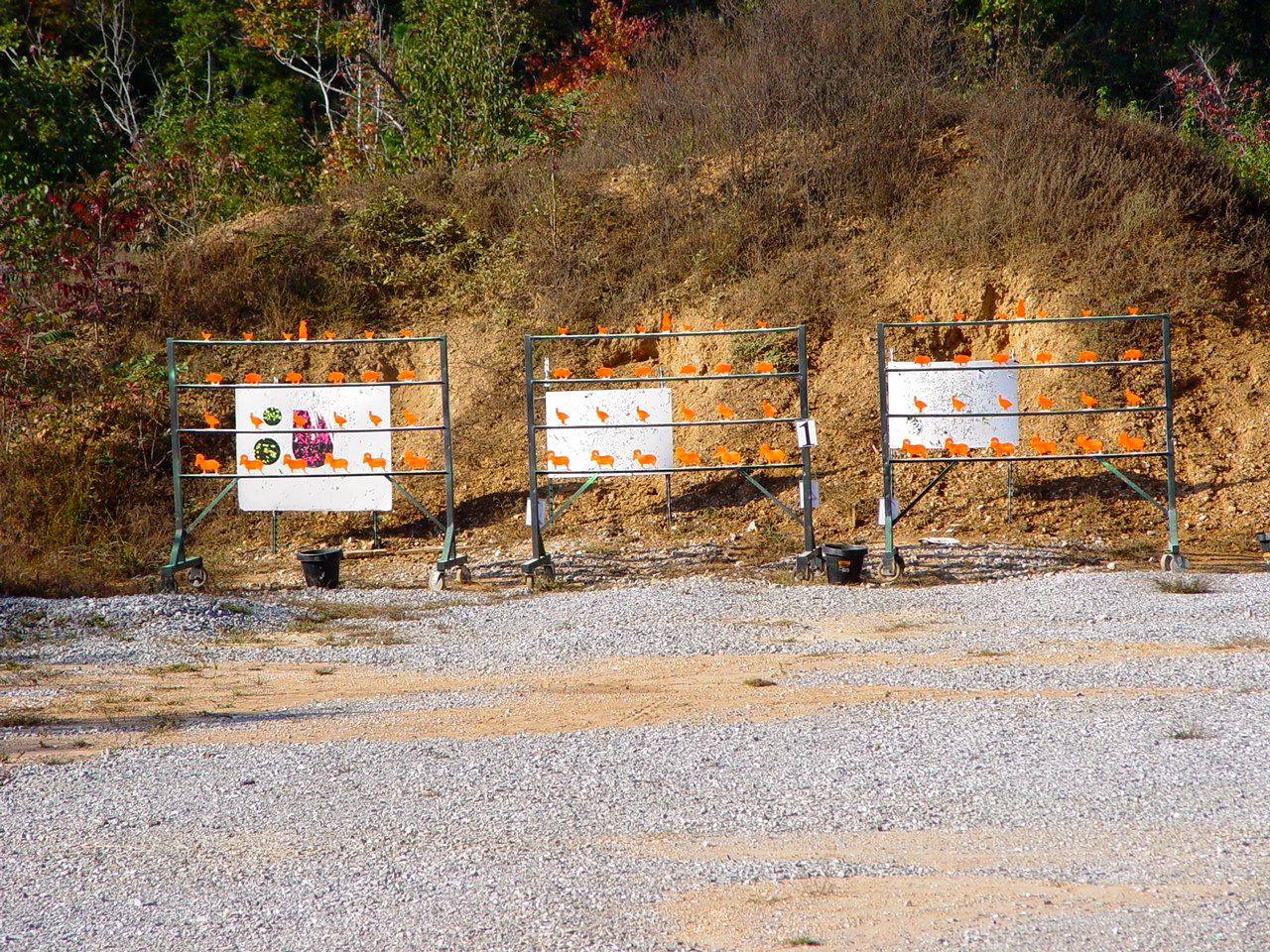 25/25 Pistol
Second Saturday - same start times
Same as the 50/25 rifle match save for the fact that it is fired from 25 instead of 50 yards and pistols and revolvers are used instead of long guns. Any safe .22 pistol or revolver is eligible and we offer open sight pistol class, open sight revolver class, and scoped handgun (any action type) class.
This match is dominated by open sighted .22 semi automatic handguns with scopes offering little advantage other than to those with vision problems. It moves quicker than the rifle match (just because most shooters are taking only 3 or 4 minutes of the allocated 10 minute time frame) and we have experienced growth similar to the sporter match. We use four racks.
NASA, Inc. Rimfire Benchrest
Third Saturday - Seasonal - refer to Club Calendar at
www.NASA.com
(Bill Parkhurst is the Match Director for BR)
This is a 50 yard bench rest match for .22 rifles. It is an extreme accuracy sport with equipment playing as much or more a part than marksmanship. We offer sporter, custom, and unlimited classes in an unsanctioned match each month. The target is the USBR 28 bull paper target, and it is of very high quality paper. The shooter has twenty minutes to fire unlimited sighters at the top three bulls and 25 shots for score on the lower 25 bulls (one each). The results are highly dependent each month on the wind, humidity, light, and temperature. But, at least everybody is usually in the same boat.
Please refer to the USBR's official website for the specific rules. However, I will go ahead and point out that the USBR Factory Sporter Class restricts the rifle's weight with scope to 8.5 lbs and the rules basically require that the rifle must be a mass produced sporter with limited trigger work and stock bedding allowed. The trigger mod's are limited to filing and polishing for the Sporter Class. The Unlimited Class is well, unlimited. Custom Class is like Unlimited with the exception that the rifle cannot exceed 10.5 lbs in weight. Interestingly enough, all three classes allow any power of scope. I would advise at least a 24 to 36 power scope for this match. The target's ten ring is only a tenth of an inch in diameter!
Link for more info:
usbr.benchrest.net/
Please note: NASA, Inc. is no longer a sanctioned USBR club.
CMP Sporter
Fourth Saturday - Seasonal start times - please refer to Club Calendar at
www.NASACLUB.com
. (Dwight Pilkilton directs this match)
This one will make you a true rifleman (or riflewoman, riflechild, whatever). The course of fire includes 60 scored rounds (a full morning of shooting). It is an official match of the Civilian Marksmanship Program and Dwight has registered us as a CMP club now. We held our first sanctioned match in spring 08 and the club usually sends a team to the National Sporter Match at Camp Perry, Ohio each summer.
The match starts with a 10 minute sighting in period for unlimited sighters to be fired from offhand, sitting/kneeling, or prone (even a modest rest may be used in this period).
Now the fun begins.
20 rounds from 50 yards fired from the prone position (with the use of a sling encouraged) subdivided into 10 slow fire and two five shot rapid fire mini strings (the shooter has 30 seconds and goes standing to prone to fire five shots - 25 seconds for autos).
Another 20 rounds in similar order save for the requirement to fire from the sitting or kneeling position (whichever the shooter prefers).
Finally, the shooters move up to 25 yards and shoot in similar order save for the requirement to fire from the offhand position without the use of a sling.
A reliable semi auto that can handle sling pressure can win this one for you. But, most opt for the accurate bolt guns.
The CMPs weight, trigger, and scope power rules are tough for this match. The overall weight including scope and/or iron sights cannot exceed 7.5 lbs. The trigger pull must lift a three pound weight. If one uses a fixed power scope, the scope cannot have a power of over six and if one uses a variable scope, then he/she must tape it at no more than six power. The rules specify .22 long rifle ammo.
One is shooting for a 600-60X possible and our best shooters turn in 575 to 595 point totals with X counts ranging between the high teens and the low thirties. We award Bronze, Silver, and Gold medals based on the official CMP numerical ranges. Here is the CMP's excellent guide for this shooting endeavor:
www.odcmp.com/Comm/Rimfire.pdf
To sum things up, one could go buy a CZ American. Lower the trigger tension nut to a 3 lb 1 oz setting. Purchase a good military style leather or synthetic sling. Mount a clear and reliable 6 to 18 or 6 to 24 variable scope on it. Find an ammo it likes. Practice enough to get the action slick (about a thousand rounds would do). And, then compete in all but the pistol match. Add a Browning Buckmark or Ruger Mk I, II, or III and take on all four Saturdays.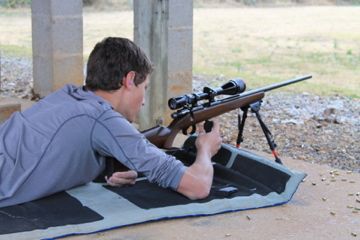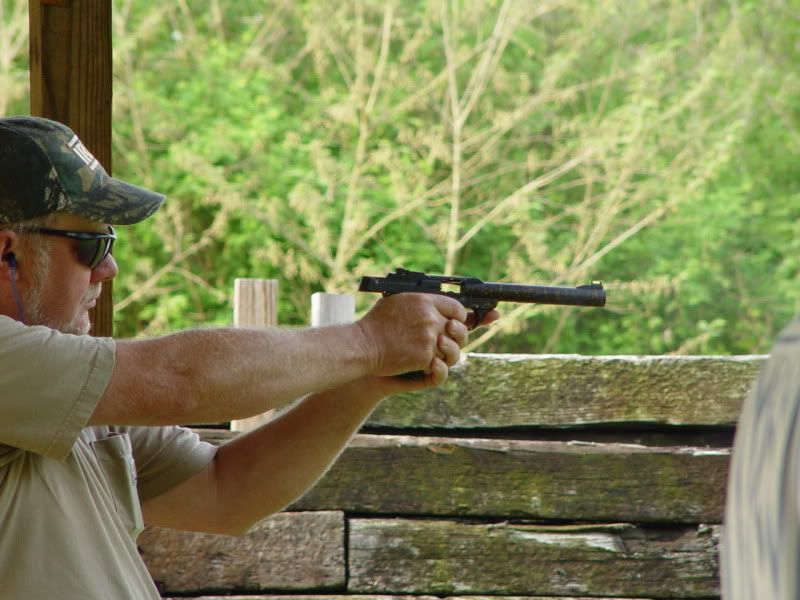 Or, if you prefer open sighted twenty-twos, then get a CZ Special or Lux and an inexpensive spotting scope and shoot all but the BR match. One of the new Savage bolt action sporters with Savage's Accu-trigger should be a good candidate. And, one of Thompson Center's semi-auto sporters could compete in all of the rifle matches if you prefer a self loader.
The match directors have witnessed improved marksmanship and gun handling skills across the board in the past few years as these matches continue to attract followers.
Please come out and try one of these matches and of course, you are more than welcome to simply observe a match the first time or two.
Danny Creasy, Rimfire Match Director
Special matches:
Rimfire Raptor Match (shot on 5th Saturdays - about four times a year)
We use sporter weight .22 rifles and employ either a bi-pod or throw down bag to engage five small metal chicken silhouettes at 90 yards on the highpower rifle range. The shooter starts standing and then has one minute to go prone and fire no more than ten rounds at the five birds. The number left standing is the shooter's score and three strings are fired in a match. Tie breakers are often needed and they consist of the tied shooters going head to head with only five rounds instead of ten.
Rapid Fire Rimfire
This is a speed shooting .22 rifle match fired as time and inclination allows, after the completion of our 25/25 Pistol Matches. The same 25 yard silo rack set up is used as in the pistol match (less the prairie dog in the top row). In this variation however, a shooter uses a rifle to see how little time it takes him or her to knock down a row of six critters. There are open sight and telescopic/peep sight classes. We use handicapping times to equalize various action styles i.e. bolt action, lever action, pump action, and semi-auto. A stop watch starts when the first shot is fired and stops when the last silhouette of the row is down. The aggregate time for all four rows less any applicable action handicap and good shooting awards (3 seconds off for a clean row) is the shooters score and the low score wins.